The Museum of European Cultures held a Ver-nissage of European Cultural Days on August 1st
The exhibition was opened by a double concert by the Italian band Rachelina and the Maccheronies and the North Frisian Norma
August 05th, 2019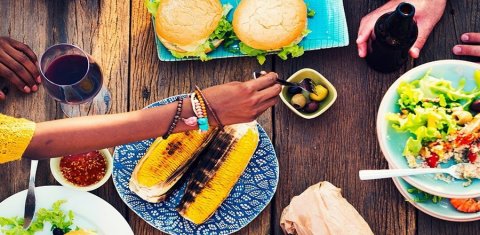 The Museum Europäischer Kulturen, situated in Arnimallee 25, hosted the vernissage of the European Cultural days. Among the organisers are Italian Institute of Culture, the Georgian Embassy to Germany, and the Swedish Embassy.
On the 1st of August, at the Museum of European Cultures in Berlin, the Vernissage of European Cultural Days took place. The festival takes place at the Museum every summer, and it lasts for a month. Each year the event presents visitors with the occasion to discover different European countries and their cultures. The four-weeks long festival aims at introducing different cultures to both Germans and non-Germans, in order to make foreigners feel at ease by presenting them with foods and cultural aspects of their home country, while promoting the diversity of such countries' traditions in Germany.
During the vernissage, Italian singer Rachelina and her band, "The Maccheronies", sang about Naples, while also presenting guests with the delicious cuisine of Naples, especially its staple, the Neapolitan Pizza. The Neapolitan Pizza is in fact part of the UNESCO World Heritage, and it is an excellent tool employed in food diplomacy concerning the Italian city of Naples. Additionally, the German, more specifically North Frisian, singer NORMA has also performed during the vernissage. Such artist has been chosen to play at the event due to her use of different German languages, namely High German, Low German and Frisian. Such artists have thus promoted the cultures of Italy and Germany, using music as a tool for cultural diplomacy here in Berlin. The exhibition will last until September 1st, visitors are charged 8 euros for regular admissions and 4 euros for concessions.
References:
News from Berlin