The Day of Open Mosques Berlin 2022
Within Germany and Berlin alike, mosques will open their doors to display their architecture and history, as well as information for tourists, locals and anyone interested on 3rd of October this year.
September 21st, 2022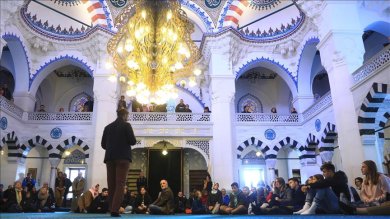 The Day of Open Mosques will work to promote a dialogue and dispel stereotypes surrounding Muslims and Islam as a religion, through participating mosques offering tours, exhibitions, and insight into the Muslim communities of Germany.
Taking place on the Day of German Unity, the event is organised by Germany's Muslim Co-Ordination Council, bringing together the largest Muslim community in Germany and representing Germany's 4.7 million Muslims.
The goal of this event is to depict Islam in a new light, as an opportunity to challenge the rise in Islamophobia and right-wing extremism, instead offering a more authentic representation of the religion and its members. As a result, Berlin's varied communities can be brought together and create an intercultural exchange, allowing a better understanding and deeper respect for one another.
Numerous mosques throughout Berlin's regions will welcome guests, in addition to Muslim community centres, including the elegant Sehitlik mosque on Columbiadamm, which is acclaimed to be one of the most ornate and elaborate mosques in Berlin.
References:
News from Berlin