The British Embassy Supports Plastic Free July
Promoting the Protection of the Environment Through Cleaning a Berlin Park
July 06th, 2018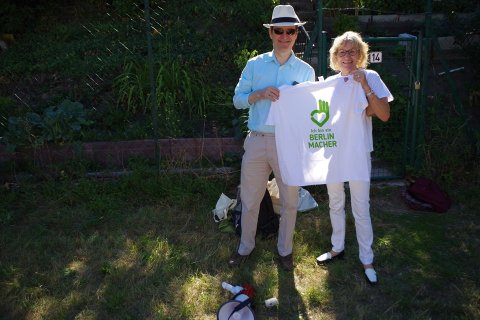 The British Embassy supports the project Plastic Free July and participates in cleaning of a park in Schöneberg.
Members of the British Embassy and consulates promote the Beyond Plastic Initiative as they participated in the cleaning of a park in Schöneberg. This initiative is a tangible commitment preceded by a preparation of a joined British and German conservation of the oceans. The cleaning aims to reduce plastics and draws attention to its dangerous impact on the seas.
The Beyond Plastic initiative emphasizes the role of individuals in the protection of the environment. What is the positive impact of the avoidance of plastic straws? Consumers are encouraged to prefer products made from recycled plastic and to reconsider their consumerist behavior. Simultaneously, millions of participants across more than 150 countries worldwide share the vision of a Plastic Free July. For a month, the initiative supports behavior change. For example, people are encouraged to avoid takeaway containers, coffee cups and to find a sustainable option.
The initiative demonstrates British commitment to the German regional environment. The directive turns attention to choose single-use plastic products, which together with fishing gear accounts for 70% of marine litter in Europe.
According to The Economist, there could be more plastic in the world's waters than fish by 2050. The European strategy aims to minimize plastic use and in turn, to minimize the amount of plastic which ends up in the ocean.
The British Embassy clearly demonstrates the importance and value of personal commitment to the protection of the environment, the work on regulations for the future development of the use of plastic, and the introduction of a protection plan for the environment on a bilateral and European level.
References:
News from Berlin