Sweden Offers a Culinary Food Journey at the Grüne Woche
From Swedish meatballs to German sausage - food fair represents multicultural food from all around the world
January 23rd, 2019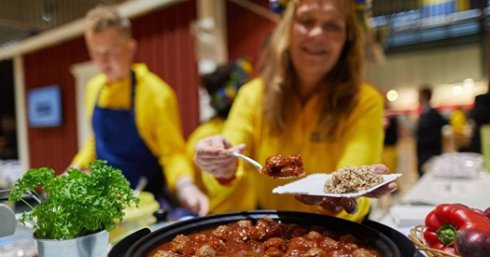 With 1 500 kilometers from North to South, Sweden has developed a wide range of different food traditions. During the food fair Grüne Woche in Berlin, you will be able to enjoy some of the Swedish delicacies and specialties, alongside with food from 84 other countries.
The fair focus on organic food and is held from January 21th to the 27th in Berlin which means that it´s not too late to hop on. There will still be more days to visit the fair and see for example the Swedish traditional folk dance or try the famous coffee break so called "fika". Further you will have the opportunity to try selected beer from local micro-breweries around Sweden as well as vegan meatballs and marmalade from Jokkmokk in the very North of Sweden.
So why not buy a single or weekend ticket and take the opportunity to try new flavors and maybe explore taste buds you didn't knew you had. An easy way to get a piece from every corner of the world.
References:
News from Berlin