Nordic Music Resonates in Berlin
Danish and Icelandic artists perform at the Konzerthaus Berlin
September 13th, 2019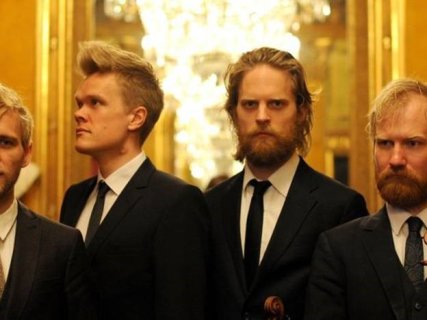 The concert is jointly organized by the Nordic embassies of Denmark and Iceland. By showcasing some of their best musical talents the institutions are bringing a piece of the Scandinavian culture to Berlin, enchanting the audience and sparking interest for the Nordic countries.
On September 17th, at the Berliner Konzerthaus in the famous central square of Gendarmenmarkt, five musicians from northern Europe performed. They are the internationally famed Danish String Quartet and the Icelandic solo pianist Víkingur Ólafsson.
The Danish Quartet is famous for their varied repertoire, ranging from traditional Scandinavian ballads to modern Danish music, all played by their string quartet composed of three violins and one cello.
The Icelandic pianist Víkingur Ólafsson, a temporary artist in residence at the Konzerthaus Berlin, played some classical pieces from Mendelssohn Bartholdy, J. S. Bach, Webern and Purcell. For the final performance the five musicians played together »Rosenbad – Papillons« by the Danish composer Bent Sřrensen.
Music can be used as a means of cultural diplomacy, as the Danish and Icelandic embassies aimed to showcase their culture and tradition to the German audience. Through this unique musical performance, they quite certainly sparkled lots of interest for the Scandinavian countries and bought the countries virtually closer and closer.
References:
News from Berlin