Never Far From Mother Nature In Berlin
One of the greenest capital cities in Europe – get out and about this summer!
May 13th, 2015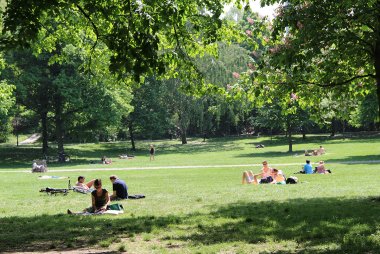 Alice White – Summer is coming and its time to start spending the weekends and our free time amongst the nature in Berlins beautiful parks.Berliners take a great deal of pride in the city's green spaces; large and small; which number more than 2,500! A full 35% of Berlin's space, in fact, is devoted to parks, gardens, rivers, lakes, and forests.
Vast green spots can be found on almost every corner of the city. Berlin's parks are, above all else, people places. Students, parents with their kids, dog owners, and anyone in need of a place to work off energy or simply relax will head for the neighbourhood park. In Kreuzberg's Görlitzer Park, warm weather barbecues go on at all hours of the day, and at Maurerpark in Prenzlauer Berg, what used to be a Death Strip for the Berlin Wall, now bustles with a huge flea market and Sunday afternoon karaoke sessions.
A major highlight of travel is always the people we meet along the way, especially local inhabitants. Enjoying Berlin's parks can help tourists infiltrate local life, find out what the residents are up to and maybe even make some friends! It's a good place to start when you want to 'do as locals do,' and what better place to do it than in Berlin!
'iHeartBerlin, a blog devoted to reviews and tips for those who visit or live in Berlin regarding the 'good stuff', has given the public what they think are the top ten parks in Berlin. According to the blog, 'Entering a good park can change your whole sense of place, leaving you feeling like you just went away without leaving the city'.
Their top ten parks included Alt-Stralau (Freidrichshain), Körnerpark (Neukölln), Tempelhofer Feld (Tempelhof), Erholungspark Marzahn (Mahrzahn), Tiergarten (Tiergarten), Viktoriapark (Kreuzberg), Humboldthain / Rosengarten (Wedding), Wasserturm Prenzlauer Berg (Prenzlauer Berg), Hasenheide (Neukölln) and finally, Görlitzer Park (Kreuzberg).
As Berlin gets warmer each day, the park season is in full-bloom!
News from Berlin
Berlin Global