News from Berlin
Interesting Exhibitions at Martin-Gropius-Bau Museum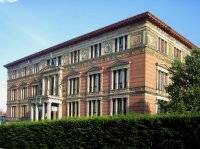 News from Berlin - The Martin-Gropius-Bau museum, located near Potsdamer Platz, is one of the most famous and beautiful exhibition halls in Germany. It was first built in 1881 as a royal museum displaying art and crafts. After the museum was severely damaged in the war it was reopened in 1981 after the reconstruction and was named after its architect Martin Gropius.
The museum hosts around 10 exhibitions a year in the fields of art, archaeology, photography and cultural history. Related to major current developments in art and major cultures in the world, most of the exhibitions aim to reach out to the broad general public. The museum also has a bookstore, restaurant and café.
Current exhibitions on display are "Evidence" by the artist Ai Wei Wei, who uses art as a mean to tell visitors about the social conditions such as oppression, corruption and lack of freedom of speech in China. The exhibition "David Bowie", a spectacular multimedia show celebrates Bowie´s extraordinary career. "The Vikings" is an upcoming exhibition that will be showcased in September this year. It will portray the world and the culture of the Vikings with a famous shipwreck to be put on display.
News from Berlin – Berlin Global