Germany-based Nigerian painter addressing African issues
How art can give a "voice to the voiceless"
August 14th, 2019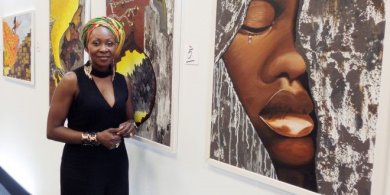 Vivian Chioma Timothy is a Germany-based Nigerian painter conceiving art as a way to convey a social message: she sees her work as a chance to gather people together, providing them a platform to express themselves and their insights.
Vivian Timothy held many exhibitions across Germany; one of the most meaningful (entitled "Broken vessels") was held in 2016, in Augsburg, which concerned the Chibok children kidnapped by the Islamic terrorist group of Boko Haram, in 2014. At first, Vivian wanted to become a singer, however the meeting with an old friend interested in visual art changed completely her mind; since that moment, she has been dedicating her life to painting.
She's very attached to her country: African landscape and people constantly inspire her paintings, as well as such important environmental issues like devastation in the Niger Delta. "The love for my roots and for my origins is mirrored in my paintings, which can tell you much about African lifeworlds – traditions that are disappearing more," (…) "If we break our chains, we will be free, but if we break our roots, we die." She stated in an interview.
References:
News from Berlin