"Frauen Unternehmen" at the Italian Embassy
A large number of people gathered at the conference hosted by the Italian Embassy on June 18th
June 25th, 2018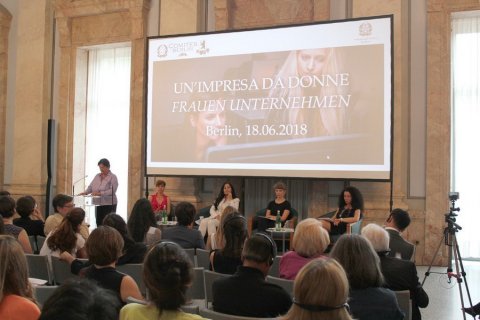 The meeting organized by Comites Berlin, together with the Italian Embassy, saw the involvement of many people coming to find out more information about the opportunities of being or becoming a successful female entrepreneur in Germany.
The conference began with an opening speech given by the president of Comites Berlin, followed by the playback of a short video of the Italian Ambassador in Berlin, Pietro Benassi. The Ambassador, who was supposed to take part in the event, apologized for not being able to come because of institutional commitments, highlighting the importance of the issues discussed through the initiative of Comites Berlin.
The opening speech was followed by the presentations of different experts such as Pakize Schuchert Güler (Hochschule für Wirtschaft und Recht Berlin) and Martina Giesler (BMWi). They introduced the Ministerial program "Frauen Unternehmen", as well as other important tools promoted by the German government in order to help women in their entrepreneurial activity. Later on, Sara Borella (DIHK - Deutscher Industrie- und Handelskammertag e.V.) and Sonia Barani (ITKAM, German Chamber of Commerce) presented the actions and initiatives of the Chamber of Commerce in this field, such as the European project "crossEUWBA".
The final part of the conference was completely dedicated to three successful examples of foreign female enterpreneurs in Germany: Aynur Boldaz-Özdemir – founder of "Forever Clean", Mirella Facchinetti – founder of Colibrì and Maria Crosato – founder of "Süss Mery"). They spoke about their stories and personal experiences in a very spontaneous and personal way, replying to the questions posed by the audience with interest and curiosity.
The conference was held in Italian and German with the cooperation of two simultaneous interpreters. The event was followed by refreshments on the Embassy's premises for all of the speakers and guests involved.
Here are some extracts of the event "Frauen Unternehmen" at the Italian Embassy:
https://ambberlino.esteri.it/ambasciata_berlino/de/ambasciata/news/dall-ambasciata/2018/05/18-06-2018-ore-18-30-un-impresa.html
News from Berlin