Exhibition opening of Irish artist David Hedder-manís works held at the Irish Embassy
During the vernissage the artist has held a speech in which he has il-lustrated the path he has followed to create the works exhibited at the embassy
August 12th, 2019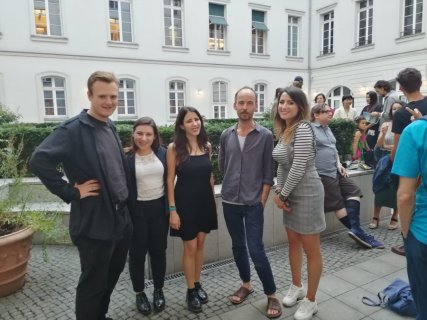 The vernissage, held on Thursday, August 8th at the Embassy of Ireland, inaugurated the exhibition of artist David Hedderman, an Irish artist based in Berlin. The staff from the ICD has had the chance to talk to the artist and appreciate his works.
The exhibition opening began at 6:30pm at the Irish Embassy, throughout the event wine and pretzels were offered to the guests, while the latter had the chance to admire the works David Hedderman created during his 11 years in Berlin. The artist has inaugurated his exhibition with a speech, aimed at explaining the process leading up to the current exhibition. The artist has in fact explained how he moved to Berlin from Dublin in 2008, as the economic crisis was taking place, and how he started attending Life drawing classes in Kreuzberg at the Atelier 3/4, where he is currently holding his own classes, as a survival strategy. During his speech, David Hedderman has highlighted how is work has flourished through the Life drawing classes, and how the works exhibited were entirely produced during such classes.
Like many artists of Berlin, daily he faces the struggles of being an artist and life altogether, and this help him in painting his works. It could be that by inclinations on inspirational sceneries he could paint a vivid mental picture of a Dublin concrete pier in the late evening, but also some distinct situations he's observed in the Britzer Garten in the summertime (an old lady getting her wheelchair stuck in the loam in an attempt of properly smelling a flower). Furthermore, at the show there were some pictures of random daily encounters he's taken with his smart-phone and printed out on paper, one of them being the source of inspiration for his current work in progress. In a recent interview, Dave has explained, "this is technology serving me. I couldn't capture the nature of such fugacious moments anyhow else".
The exhibition opening has been an excellent occasion for the Irish Embassy to promote Irish art and culture in Berlin, while giving an occasion for Irish and non-Irish residents in Berlin to get together and admiring the art by David Hedderman, thus serving as an excellent tool for cultural diplomacy here in Berlin.
Such event was a beautiful event to grow cultural diplomacy in Germany, but also the life of the artist teaches us the resilience and the ability to reinvent themselves to carry out their projects.
References:
News from Berlin