Estonian Embassy at the Usedomer Musikfestival
This year, after nine other countries, the Usedomer Musikfestival finishes with its special focus on Estonian Music
October 10th, 2022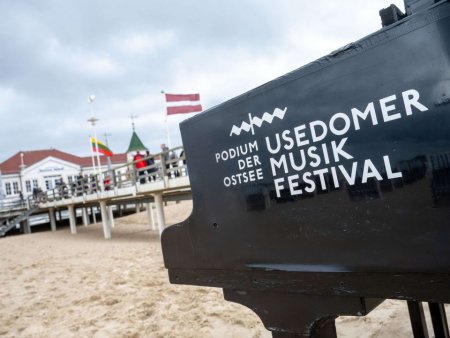 This year the annual classical music festival Usedomer Musikfestival finishes at the Peenemünde Museum's power plant in Northern Germany. The festival, which is held every year on the island of Usedom, decided this year's musical focus to be Estonia. The Musikfestival decides the thematic prioritisation of a specific country from the Baltic Sea region, where former years have showcased the music of, among others, Latvia, Lithuania, Sweden, Finland, the historic region of Prussia, Norway and Denmark.
The concert was conducted by the Slovak conductor Juraj Valčuha, with music performed by the Norddeutsche Rundfunk (NDR) Elbphilharmonie Orchester. They performed compositions by composers such as "Firebird" by Igor Strawinsky, "La Valse" by Ravel, and "Lap of the Unfortunate Light" by Estonian composer Jüri Reinvere.
The Estonian Embassy in Berlin congratulates Estonian composer Jüri Reinvere, whose compositions were played in the concert. Reinvere has also been voted as the "Musician of the Year" in Estonia and was awarded the Order of the White Star by President Alar Karis this year.
The Deputy Prime Minister for Culture Taaniel Raudsepp, the Music Representative of the Estonian Ministry of Culture Ivo Lille and the Cultural Attachée Merit Kopli have given the composer Jüri Reinvere, the orchestra, the director Thomas Hummel, the dramaturg Dr. Jan Brachmann and all the participants thanks for the particularly successful festival.
References:
News from Berlin