Belgian Development Cooperation is More Dynamic than Ever
Highlights from the 2018 annual report of the Belgian Development Cooperation
May 24th, 2019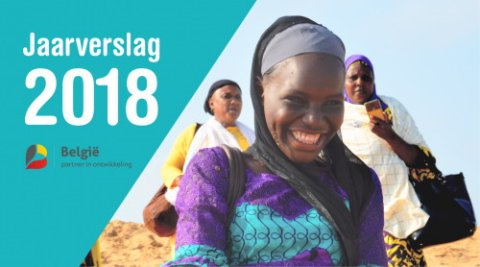 An international campaign for women's and girls' rights, a partnership with the private sector on sustainable chocolate, hackathons in the South and innovation in humanitarian aid. Those are some of the highlights from the 2018 annual report of the Belgian Development Cooperation. Deputy Prime Minister and Minister of Finance and Development Cooperation Alexander De Croo looks back with satisfaction. "Belgian development policy is more dynamic than ever, with a strong focus on human rights, innovation and cooperation with other partners such as the private sector." In addition, the report describes the distribution of budgetary resources and the numerous actions to achieve the Sustainable Development Goals.
First highlight is female rights. Women's rights are central to Belgian development policy. Better educated women with their own income and healthier girls who decide on their own bodies represent the lever for development. Since Belgium put its shoulders under the "She Decides" movement in 2017, women's rights have been a common thread throughout our development policy. In 2018, Belgium - together with the international NGO Global Citizen, the government of Luxembourg, the Bill & Melinda Gates Foundation and Procter & Gamble - launched #SheIsEqual. This international campaign focuses on gender equality, women's empowerment and women's health. The #SheIsEqual campaign totaled 780.4 million euros.
Next is the private sector. Together we can achieve more - that is why Minister De Croo introduced "Beyond Chocolate": a partnership for sustainable Belgian chocolate. With Beyond Chocolate, governments, companies, NGOs, trade unions, impact investors and universities are committed to tackling child labor together, combating deforestation and ensuring a viable income for local cocoa producers. In this way Belgian chocolate is made even better and more sustainable.
Digitalization is also important. In Senegal, Niger, Palestine, Morocco and Uganda, creative teams started looking for innovative solutions to development problems. During these hackathons "Hack the Goals", numerous digital answers were presented for concrete problems that the Belgian Development Cooperation projects are facing in those countries. In every country, a local jury chose the best or most promising solution. Minister De Croo: "The future is digital. The digital revolution offers so many new opportunities to tackle development challenges differently and better."
At last, humanitarian help. To save more lives, humanitarian aid must become more innovative. Belgium wants to be a modern partner that can respond to evolutions and changes in the humanitarian sector. As a humanitarian donor, Belgium wants to encourage an "innovation culture" within humanitarian organizations. In 2018, our country invested 20 million euros in innovative projects from NGOs and international organizations. Total Belgian humanitarian aid included a record amount of 170 million euros for the third year in a row.
References:
News from Berlin