A New Step in Cultural Cooperation
Germany and France establish Joint Cultural Institutes
February 04th, 2019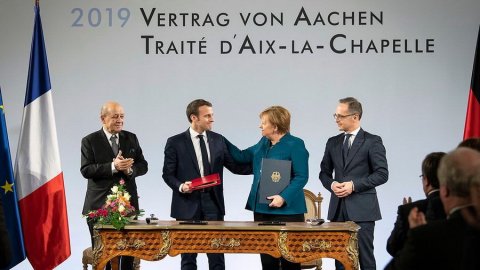 Following the signature of the Treaty of Aachen on January 22, Germany and France have announced the establishment of joint cultural institutes in third countries.
Exactly 59 years after the Elysee Treaty signed by Charles De Gaulle and Konrad Adenauer, France and Germany reiterated their commitment in a new friendship treaty. While renewing their alliance, they also launched a new cooperation project in the fields of Culture and Education.  This project appears to be the concrete materialisation of the strengthening relations between the two countries as well as the promotion of the European cooperation and the reassertion of the cultural dimension of the European project on a global scale.
The first joint institutes are to be based in Bishkek, Erbil, Rio de Janeiro and Palermo. It will consist of a merging between the Goethe-Institut and the Institut Français on site, with a structure similar to the already existing French German Cultural Center in Ramallah.
References:
News from Berlin