1st German-Azerbaijani Business Dialogue
Annual conference on innovation and collaboration in tech communityPromoting opportunities for cooperation and forming new business ties in Berlin
November 13th, 2018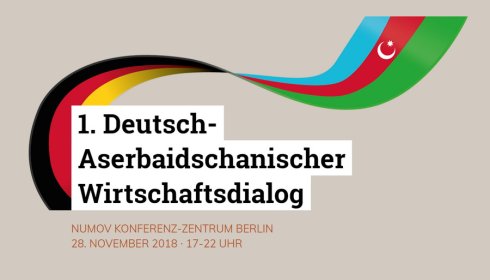 The German-Azerbaijani Business Dialogue is organized with the support of the Embassy of the Republic of Azerbaijan in Germany, the German-Azerbaijani Chamber of Commerce (AHK Azerbaijan), the German Eastern Business Association (OAOEV) and the German-Azerbaijani Forum (DAF).
The event provides a dialogue platform for German and Azerbaijani company representatives and decision makers from the parliament, ministries, and the diplomatic corps. Business and political leaders from both countries will be discussing opportunities for cooperation and forming new business ties, aiming to further investments in the industry, trade, transport and logistics sectors, but also in the sectors of tourism and agriculture.
The program includes keynote speeches and panel discussions on various topics. The event will be opened by keynote speakers: Thomas Bareiß (Parliamentary State Secretary at the Federal Ministry for Economic Affairs and Energy from Germany) and Rufat Mammadov (Deputy Minister of Economy of the Republic of Azerbaijan).
On November 28th, Mark Hauptmann (Member of the German Parliament) together with H.E. Ramin Hasanov (Ambassador of the Republic of Azerbaijan in Germany) will host the 1st German-Azerbaijani Business Dialogue in Berlin. The event will take place in the NUMOV Conference Center (Mauerstraße 13, 10117 Berlin) and is scheduled to begin at 5 pm. It will be completed with an informal networking evening, including a buffet. Participation in the event is free.
References:
News from Berlin